Ready for some more beer-filled fun? Leading gaming software Microgaming introduced the Beer Fest slot game in September 2008. The game's theme is inspired by the lively festivities and continuous beer-drinking celebration, Octoberfest. In true Microgaming style, this game features top-notch graphics, animations and sound effects throughout. So you can really feel like you're part of the party.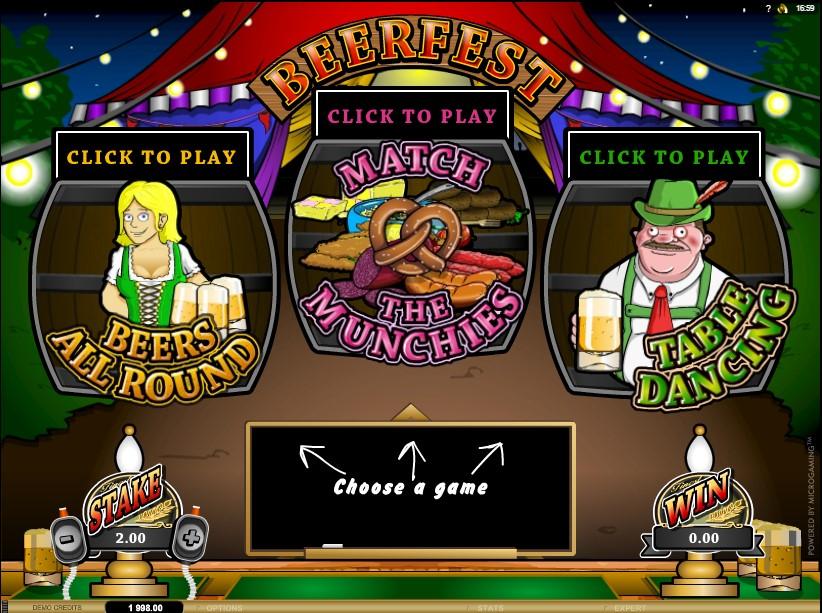 During the gameplay, you will get to meet lots of different boozy characters, such as a blonde beautiful waitress, an Irish beer drinker and even a dancing pretzel. The background will consist of a huge green field, filled with different fairground rides. It's also available on any mobile devices in HTML5 quality. It's important to Microgaming that everyone can have a top-quality gaming experience no matter where they're playing the game. It's time to join the beer party!
Features

Beer Fest features 3 rows, 5 reels and only 10 fixed paylines. It has an average RTP of 95.05%. You can join in with all the dancing, singing and partying for a minimum bet of as little as $0.50. And a maximum bet of $10. The jackpot isn't very large for a Microgaming slot game, with the maximum win being $750. But the fun theme makes up for it!
Bonus features

The best thing about this game is undoubtedly the 23 mini-games on offer. Each game will bring some more fun and entertainment to your screens (as well as the chance to win some cash). Most of these games are based on prediction so you feel there's no evidence – it's time to trust your gut instinct. Each game will be different and present a different scene. You will be able to select whichever mini-game you want to play beforehand.
Here's what to expect in the bonus rounds:

Beers all round – When this bonus round appears you be presented with two Irish drinkers sitting at a table. You will need to choose which out of two Irish drinks will drink the most. Once the game starts, the waitress will continue topping up both men's beers whilst they drink. Eventually one will turn green and eventually fall off his chair. If the man who falls is the man you choose – congratulations! There will be a reveal section which you click to collect your prize multiplier. It will either be a 2x, 4x, 6x, 8x, 10x, 12x or 14x multiplier.
Match the munchies – In this bonus game, you will be presented with a waitress. She needs your help to match the food from three trays. If you successfully help her match the foods, you'll win a surprise prize.
Table dancing – This bonus round is the one that can win you the most cash. Therefore, it might be the most tempting to pick, but it's significantly more difficult than the others. You will be presented by Fritz standing by four tables. You should choose which one he should dance to. He will start his dance routine on the chosen table. Only one table won't collapse during his routine. So if he gets through his routine without falling off the chair, well done! You'll get a huge surprise prize.
Symbols / payouts

Blonde waitress: 5/4/3 = x10.00, x5.00, x1.00
Gingerbread love heart: 5/4/3 = x5.00, x2,00, x0.50
Stew: 5/4/3 = x1.50, x0.25, x0.10
Metal dish: 5/4/3 = x1.50, x0.25, x0.10
Pretzel: 5/4/3 = x1.50, x0.25, x0.10
Radish: 5/4/3 = x1,00, x0.25, x0.10
Conclusion

It has medium volatality so you're likely to win little but often. However, if you want to win some big cash, this isn't the slot game for you. The jackpot only stands at $750 which isn't exactly life-changing but can still be won from a wager of $10. If the bonus features are in your favour! It's perfect for players that want to play with little financial risk and for entertainment purposes